Gabriela Gavarrete is a young Salvadoran biologist who is involved in restoring Cerro Tecana together with the organization Un Pulmón Más. Cerro Tecana is a deciduous forest part of a biological corridor of hills that surrounds the city of Santa Ana in El Salvador. For many years, it has been affected by forest fires and degradation caused by agricultural activities and urbanization.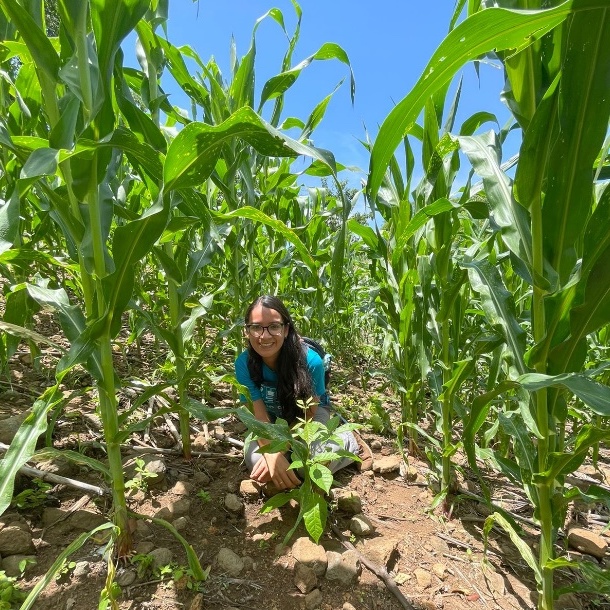 Gabriela Gavarrete, Agroforestry system (Maize-tree system)
When Gabriela presented this restoration project to the Restoration Stewards program of the Global Landscapes Forum and the Youth in Landscapes Initiative, she was selected as one of the Restoration Stewards 2022. The Restoration Stewards program supports young restoration professionals and their teams to develop their restoration projects further and raise awareness among their local communities about the importance of ecosystem restoration and healthy landscapes.
IUFRO has been involved in all stages of the Restoration Stewards program since its inception in 2020, mainly by mentoring young practitioners such as Gabriela. Her mentor has been Vianny Ahimbisibwe (MSc) from Uganda, a research scientist at the Thünen Institute of Forestry Hamburg, Germany, and a member of the IUFRO Task Force Transforming Forest Landscapes for Future Climates and Human Well-Being.
Vianny Ahimbisibwe is also a research coordinator for the Forest Land and Ecosystem Service Restoration in Africa, FLESRA project, and pursuing a PhD at the Technical University of Munich. His research mainly focuses on the governance facets (power resources, values, beliefs and norms of multi-actors across scales), technical efficiency of small-holder tree-based afforestation and reforestation strategies, and cost-benefit aspects of both large and small-scale Forest Landscape Restoration (FLR) initiatives in Ethiopia.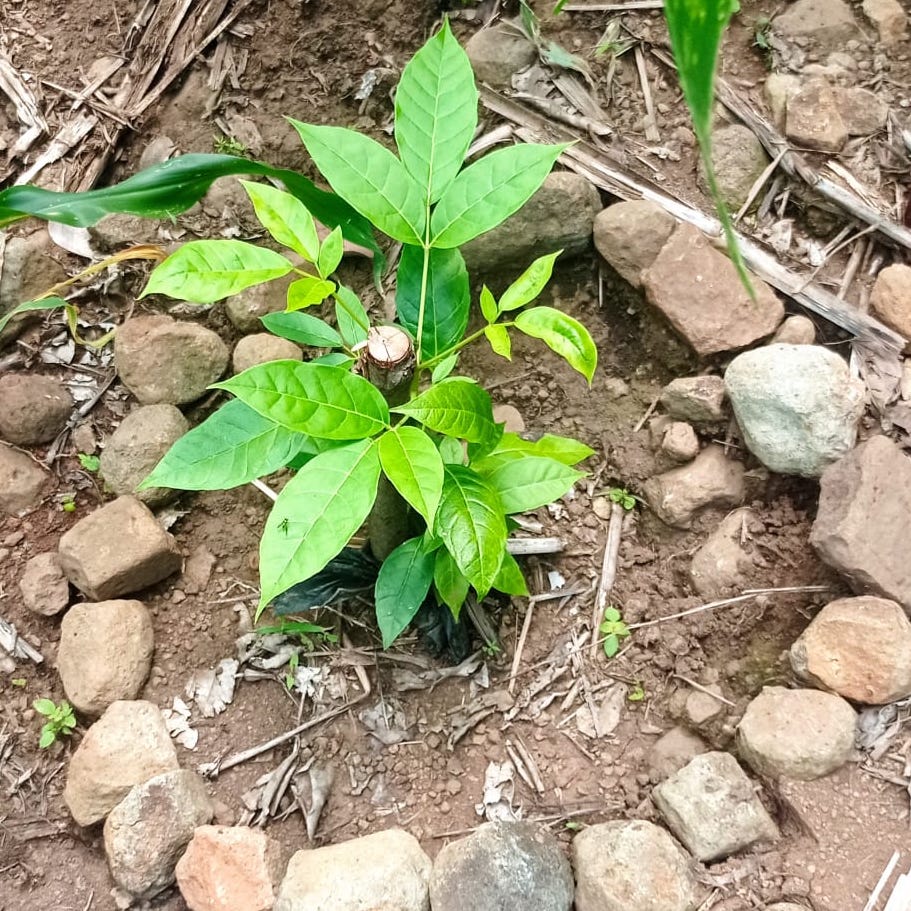 Gabriela Gavarrete, Seedling with stone bunds.
Gabriela, could you briefly describe why the work you are doing at Cerro Tecana is so important?
Forest fires, deforestation, bad agricultural practices and uncontrolled urbanization of Cerro Tecana cause the community to be unable to access the ecosystem services that are part of their fundamental rights. The Suma Un Bosque, a tree planting project by Un Pulmón Más, promotes community participation to obtain good routes for forest restoration and conservation, as well as to educate and involve people in the proper management of the ecosystem to prevent the effects of its degradation.
How did you benefit from the mentoring?
The mentoring provided by IUFRO and Global Landscape Forum has been extremely helpful in the design of restoration strategies. With the contribution of Vianny, my mentor, I have considered local farmers and also implemented an agroforestry system (a combination of maize and trees-photo a) in the area. I have also created natural barrier-stone bunds to protect seedlings and evaluate potential reforestation areas. The involvement of local farmers was key to the success of the restoration activities.
Vianny, how has the mentoring experience been for you?
As a mentor under the Restoration Stewards 2022, It has been a great experience with many lessons learnt thanks to Gabriela, my mentee. It involved learning and broadened my knowledge of new forest areas, challenges faced in FLR, and possible solutions to implement FLR projects successfully. Further, it highlighted that the communal forest restoration initiatives face similar challenges across South America and Sub-Saharan Africa. Therefore, the mentorship program created a platform for sharing trans-continental experiences and learning since it is a two-way communication process.